Gastronomy
Not just delicious food...it's an experience!
CHOOSE FROM OUR FOOD AND BEVERAGE OFFER
Enjoy the art of our chefs as part of your accommodation or choose from the daily menu or à la carte
We welcome you daily from 8:00 am to 10:00 pm
Taste delicious dishes and selected wines or other favorite drinks from our offer

as accommodated guests with the option of half board or full board
as random passers-by who smell the tempting aromas from our kitchen from 11:30 am to 10:00 pm (last order can be made until 9:30 pm)
as part of a congress or corporate event – the restaurant can be directly connected to the modernized congress hall
the restaurant has a capacity of up to 176 people
like a carefully curated menu at your dream wedding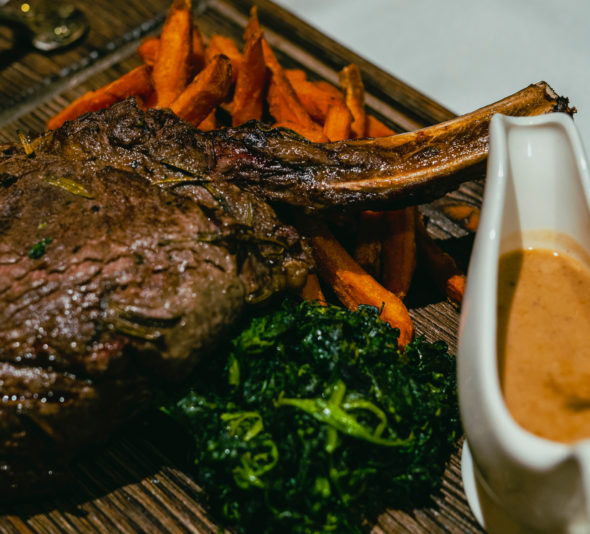 Gastronomy for guests

Your palate will be taken over by the cold buffet with ham, cheese and vegetable platters and salads, complemented by fresh and crispy white and selected wholemeal pastries (choice of 10 types). Various types of cereals and sour-milk products are prepared for lovers of healthy food. All gourmands are guaranteed to enjoy the selection of hot buffet, where warm porridge, delicious scrambled eggs, sausages or fragrant bacon straight from the frying pan are not to be missed. Fresh coffee, hot chocolate and 4 types of juices are available. Finally, we also think of those who can't indulge in the classics, so you can prepare your breakfast with soy, almond or coconut milk.

In our hotel restaurant, all guests will find something to their liking. Every day we have a varied à la carte menu, where you can choose specialties from local and foreign cuisine. For lovers of more traditional food, we also offer a tasty lunch menu, where you can choose at least two soups, two main dishes (meat and meatless) and a delicious dessert at the end. We wish you a good taste!

A rich buffet of hot dishes in the evening is the perfect finishing touch to the day's experiences. Our guests can choose from a selection of two soups, four main courses (of course, we also think of those who don't like meat dishes very much) + a flour dish, two salads and finally two desserts. Tasty and exquisite dishes will replenish your energy for a night skiing or relaxing in our wellness center.